The Information Technology University in Lahore has recently entered into an important accord with the United States' Embassy in Pakistan to build a cultural education hub.
Vice Chancellor Dr Umar Saif signed a Memorandum of Understanding with Deputy Chief of Mission Jonathan Pratt to establish a Lincoln Corner at the University, which will deliver information about America, academic events, English language instruction and alumni activities. The University's Lincoln Corner will also host prominent American speakers and cultural activities, such as a recent performance by the Ari Roland Jazz Quartet.
The centers offer free Wi-Fi, as well as access to a variety of learning materials focused on the United States, such as books, videos, databases and public education programs.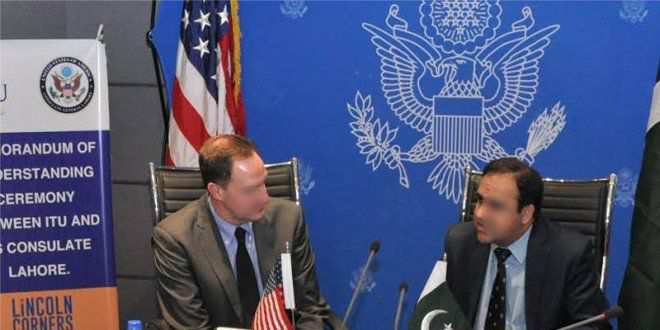 Lincoln Corners are being established in institutions across Pakistan, including libraries and education centers, in order to promote cultural understanding and bilateral cooperation, while breaking down negative stereotypes.
While at the University, Mr. Pratt was also given a tour to showcase some of the Punjab Information Technology Board's achievements, which are hosted on the campus. This included the PlanX accelerator and Plan9 incubator. Mr. Pratt also met with a group of Plan9 entrepreneurs who will be travelling to Texas, as part of a project to connect Plan9/PlanX with the city of Austin in order to develop strong working ties. This project has been funded through a half-million dollar grant from the U.S. Consulate General to promote collaboration between innovators, creatives, entrepreneurs and investors in the two countries.
This year's delegation is composed of 28 entrepreneurs. Launches will be held at least biannually, in coordination with Plan9/PlanX. The program offers individual coaching, training from preeminent business experts and tailored mentoring from investors.