Islamic Girl Names With T
If you are interested to see the girls' names with T, see the following list which shows Muslim girl names starting with T.
Muslim Girls Names Starting With T in Urdu
In the Urdu alphabets, the letters ت (tay), ٹ (tai), and ط (toain) have sounds similar to T (Tee) in English. ت and ٹ are 4th and 5th alphabets of Urdu language. While ط is 20th alphabet of Urdu language.
Muslim Girl Names Starting With T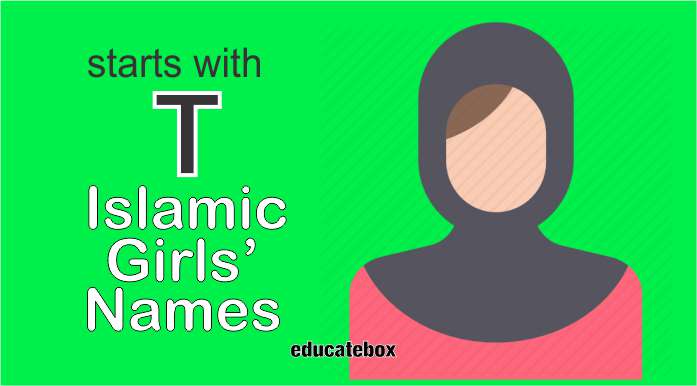 T
Name in English
نام اردو میں
معنی اردو میں
Meaning in English
Tabassum
تبسم
مسکراہٹ
smile, An Arabic word
Tabiba
طبیبہ
معالج، خوشبو، حکمت والی
wisdom
Tabinda
تابندہ
چمکیلی، چمکدار، فارسی زبان کا لفظ
shine
Tahira
طاہرہ
پاکباز
pure
Tahmina, Tehmina
تہمینہ
مضبوط
powerful
Tahora
طہورہ
پاک
pure
Takrim, Takreem
تکریم
عزت، عربی زبان کا لفظ
honour
Taiba
تائبہ
توبہ کرنے والی
One who leave sins
Talat
طلعت
شکل، نظارہ
Face, scene
Taliba, Talba
طالبہ
طلب کرنے والی
seeking,an arabic word
Tamanna
تمنا
خواہش، آرزو
wish, hope, An Arabic name
Tamkeen
تمکین
مقام، عزت
status
Tania
تانیا
پری، روسی نام
A Russian name
Tanzila, Tanzeela
تنزیلہ
نازل ہوئی، بھیجی
Revelation
Taqdis
تقدیس
پاکیزگی، عربی نام
purity
Tara
تارہ ، اردو ذبان کا لفظ
ستارہ
star
Tasawwar, Tasawur
تصور
خیال، سوچ
imagination
Taskina, Taskeena
تسکینہ
سکون پہنچانے والی
one who provides emotional pleasure
Taskeen
تسکین
تسلی
satisfaction
Tayyaba, Tayyiba
طیبہ
پاک، پاکیزہ، مدینہ منورہ کا نام
Fine, Well
Tazkia
تزکیہ
اصلاح
rectification
Tazmin
تزمین
اچھی خصلت والی
Good habbits, An Arabic Name
Tooba,Tuba
طوبیٰ
جنت کاایک درخ، پاکیزہ
A tree of Jannah
Muslim Girls Names Starting With: