Islamic Girl Names With U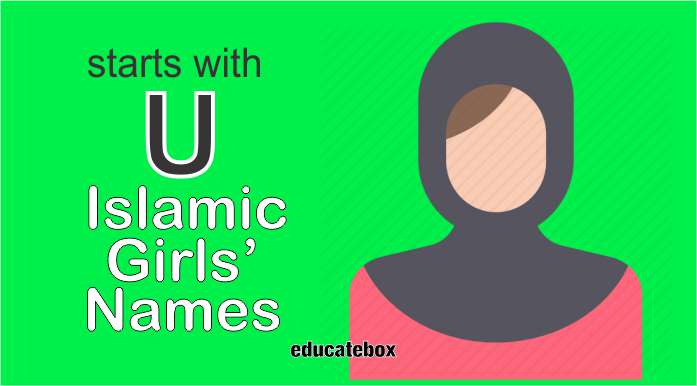 If you are interested to see the girls' names with U, see the following list which shows Muslim girl names starting with U.
Muslim Girls Names Starting With U in Urdu
In the Urdu alphabets, the letter ا (alif) has a similar sound to U (you) in English. ا is the first alphabet of the Urdu language. In order to pronounce U, we put ُ (paish) above ا (alif) like اُ. It sounds like uoo.
Muslim Girl Names Starting With U
U
Name in English
نام اردو میں
معنی اردو میں
Meaning in English
Ufaq
اُفق
زمین و آسمان کے ملنے کی جگہ
Horizon
Ujala
اُجالا
روشنی، اُردو زبان کا لفظ
light
Ulfat
اُلفت
محبت، پیار، لگاؤ, عربی لفظ
love and affiliation
Ukht
اُخت
بہن، عربی زبان کا لفظ
sister
Umaima / Umaimah / Omaima
أميمہ
Diminutive form of umm ("mother").
Umama
اُمامہ
پیشواء، رہنماء، عربی نام
Leader
Umaimah / Omaima
اُمیمہ، اُمائمہ
رہنمائی کرنے والی
Um-e-Ammarah
ام عمارہ
Name of Sahabia
Um-e-Habibah/Habiba
ام حبیبہ
Wife of Prophet Muhammad Peace be upon Him
Um-e-Hani
ام ہانی
علی رضی اللہ عنہ کی بہن اور ابو طالب کی بیٹی، صحابیہ کا نام
Name of sahabia
Um-e-Hakeem
ام حکیم
حکیم کی ماں
Um-e-Kulsoom
ام کلثوم
Daughter of Muhammad (Peace Be Upon Him)
Um-e-Ralah
ام رعله
Um-e-Rooman/Rumman
ام رومان
عائشہ رضی اللہ عنہ کی والدہ
Mother of Ayesha Razi Allah Anha.
Um-e-Salma
ام سلمہ
محمدصلی اللہ علیہ وسلم کی زوجہ
Wife of Muhammad Sala la hu alahay wasallam
Um-e-Sulaim
ام سُلیم
Ummayah / Ummayyah
اُمیہ
مادرانہ, حدیث کی راوی
Ummul Khair
ام الخیر
Name of Sahabia
Umnah
اُمنہ
سعادت مند
An Arabic name
Unaisah
أنيسہ
دکھ درد بانٹنے والی
close friend
Usairah
أسيرہ
Uswah
اُسوہ
نمونہ، ترتیب، عربی نام، مثال
example, sample
Muslim Girls Names Starting With: